Las Vermudas University
Welcome to Las Vermudas University, the academy of Las Vermudas dedicated to the dissemination of the culture of vermouth, aperitif and eno-gastronomy.
Discover our original experiences and our team building activities for companies.
Do you want to make an original gift?
All our Experiences can be given as gifts. Write a personalized message that will be included in the gift voucher.
Teambuilding and Corporate Events
Teambuilding: Mixology
Get behind the bar and become a professional bartender!
Learn the secrets and techniques of mixology in this social and entertaining event!
Teambuilding: Vermouth tasting and elaboration
A collaborative, fun, educational and creative workshop. Participants will work in teams in a challenge to create and present the perfect vermouth!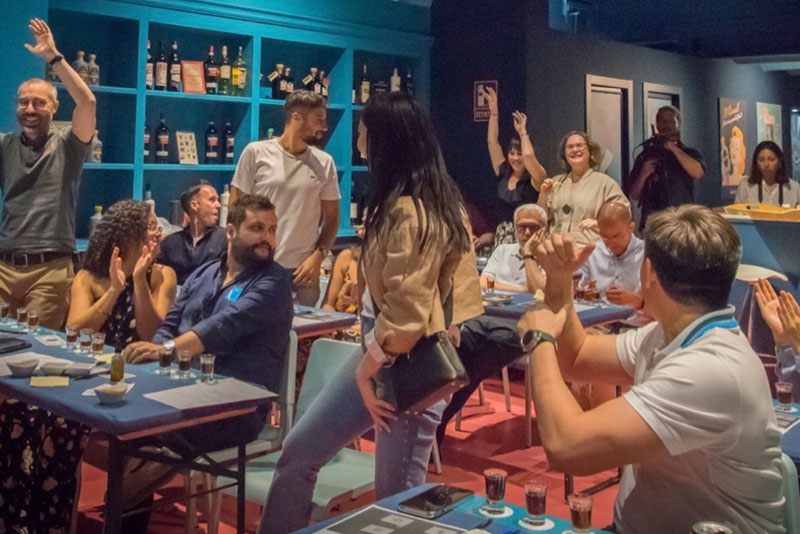 Teambuilding: Vermouth time – with game!
An entertaining and revealing vermouth tasting combined with a profiling game. Participants will discover their own personalities and those of others, while enjoying tapas and a special selection of vermouth. Fun, social and delicious!
Teambuilding: Tapas and pairing with vermouth
An original tapas and vermouth pairing workshop. Together we create tapas with fresh ingredients from the local market and pair them with selected vermouth. A social event and absolutely delicious!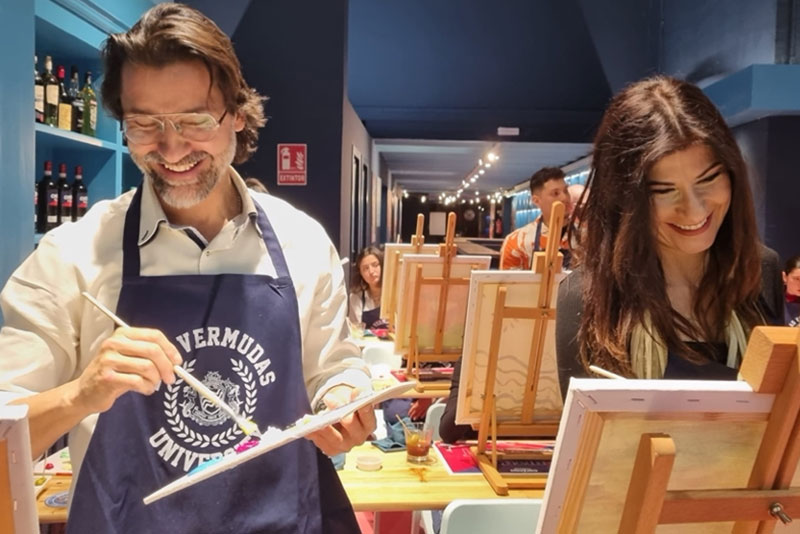 Teambuilding: Vermut-Art painting and vermouth
A creative and fun workshop. Each
participant paints in different rotations
canvases, executing each phase of the work and contributing to the work of his colleagues. An experience that unleashes creativity and fosters collaboration among peers
Private Events
Looking for an original and entertaining way to celebrate a special occasion?
Our workshops and events are the perfect way to celebrate a birthday, a bachelorette party, an important date or a get together with friends and colleagues.
Choose from our proposals the perfect experience for you and your guests, or contact us so we can work with you to create a tailor-made experience.
Make your event a memorable experience with a trip to Las Vermudas for you and your guests!
Contact us now!
Jordi González
2023-03-26
Lloc genial per testar vermuts. I el Cònsul es espectacular
Penelope Vaxevani
2023-03-20
Good
Evgenija Drapun
2023-03-19
The best vermut
Maribel Bernard Montuenga
2023-03-12
Excelente lugar para ir a tomar con amigos. Cócteles muy originales con vermut a buen precio aunque también tienen cócteles clásicos fuera de carta. La decoración es muy original y con historia y hasta leyes!, Me pareció muy creativo y bonito. La música excelente y buen servicio.
Increible lugar! Muy rico el vermut y las tapas, muy amables y buen servicio 🙂 Gracias Gero!
Yelyzaveta Nalyvaiko
2023-02-27
The best bar we've been in Barcelona! Amazing vermut selection, great tapas, super nice and friendly staff, especially the lady that tends the bar! Great concept also
C. de Viladomat, 107, 08015 Barcelona